Building energy-efficient homes helps ensure our communities are using energy wisely — today and for years to come. Comfort is built from the ground up, which is why PSO is proud to partner with homebuilders dedicated to delivering value through high-efficiency new homes.
Homebuilder Rebates
PSO offers substantial rebates to homebuilders who construct energy-efficient homes. View all available new home rebates.
View All Rebates
Laying the Foundation for Energy-Efficient Homes
Home Energy Rating System — HERS
The Home Energy Rating System (HERS) Index is the industry standard by which a home's energy efficiency is measured. It's also the nationally recognized system for inspecting and calculating a home's energy performance.
To calculate a home's HERS index score, a certified HERS rater does an energy rating on the home and compares the data against a 'reference home' — a designed model home of the same size and shape as the actual home — so the score is always relative to the size, shape, and type of house being built.
Thermal Bypass Inspection
The Thermal Bypass Checklist is a comprehensive list of building details where thermal bypass — or the movement of heat around or through insulation — frequently occurs due to missing air barriers or gaps between the air barrier and insulation. The Thermal Bypass Checklist must be completed by a certified home energy rater in order for a home to qualify for ENERGY STAR® or PSO certification.
Building Pressure Envelope Testing
Building envelope testing, or blower door testing, determines a home's air tightness. Establishing proper air tightness reduces energy consumption due to air leakage, moisture condensation problems, and drafts. It also determines how much ventilation is required to provide acceptable indoor air quality.
Duct Pressure Testing
A duct pressure test measures the air tightness of HVAC ductwork. Duct leakage should be determined and documented by a rater using a Residential Energy Services Network (RESNET)-approved testing protocol.
Compare New Home Rebates
PSO offers up to $5,000 in rebates to homebuilders who construct energy-efficient homes. New homes must adhere to PSO guidelines, have third-party validation, and pass thermal bypass inspections, building envelope pressure tests, and duct pressure tests. 
To qualify for rebates, a home must be enrolled in the PSO service before the walls are framed, and homebuilders must contract with an independent HERS rater during the early stages of design and construction.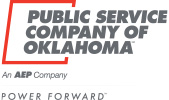 PSO New Home Rebates
$800 Rebate

95% LED Lighting

R-value of 15 for walls R-value of 38 for attic

15.2 SEER2

6 Air Changes Per Hour

6 CFM per 100 square feet (leakage to outside)

U-value 0.30 or less, SHGC-value 0.25 or less: 100% ENERGY STAR certified windows

Industry best practices are encouraged

HERS Rater, must pass insulation inspection, testing of building envelope and duct system.
Minimum Code
No Rebate

50% LED Lighting excluding can lights

R-value of 13 for walls, R-value of 30 for attics (batt insulation allowed)

14.3 SEER2

No code requirement

No code requirement

U-value 0.50 or less, SHGC-value 0.35 or less

No code requirement

No code requirement

*No rebates are available for a home built to minimum code.
Get Bigger Savings With Bonus Rebates
You may qualify for larger rebates when you complete select energy-efficiency upgrades above the minimum requirements.
HVAC Upgrade
15.2-17.1 SEER2, $200
17.2-19 SEER2, $600
19.1+ SEER2, $800
Ductless Minisplit, $1,000
Ground Source Heat Pump, $800 + $350/ton
Electric Vehicle Ready
Include a minimum 32-amp devoted circuit attached to a NEMA 14-50 plug in the garage, ready for a Level 2 EV charger = $50 rebate
Apply for Homebuilder Rebates
Submit your home for new home rebates using our online rebate application portal. You must be a registered service provider in order to submit an application.